For years, I have been on the hunt for a job where I can do something that I love and serve others. It's been frustrating over the years because I went down several paths to try and figure out what that might be, but I could never really think of anything that made sense. When I bought my first DSLR, I had no intentions of becoming a professional photographer. I just wanted to take nice pictures of my kids as they grew up. As I grew in my newly found passion, I realized that I have this powerful tool to help celebrate women and build them up. Almost every woman I know struggles with self esteem, self care, and celebrating who we are. I always feel like I need to be 5 lbs thinner, a little bit more stylish, my hair a little longer, a little more polite, a little less emotional, you know it. My biggest goal for myself is to celebrate exactly who I am in this moment and to love ALL of me.
I tell you all of that to help you understand why I want to be a portrait photographer. I want to help other women feel that way about themselves. I want each woman I work with to understand that she is radiant, beautiful, strong, smart, kind, and lovable. That is my goal when working with women and it is why I like to incorporate the important aspects of their lives in each session. I was so excited when Letitia messaged me about taking her portraits and including her beloved dog, Domingo. Letitia was gracious, kind, funny, and of course, gorgeous. I left our pre session consultation excited about this opportunity to hopefully lift another up.
Letitia and I had so many things in common and I enjoyed having adult conversation with someone other than my husband and kids. Her dog was a lot of fun, and he definitely kept me on my toes. Letitia has accomplished a lot of things in the past couple of years and her session was a chance for her to recognize that. She was proud of herself and grateful for the joy that Domingo brought to her life.
Although I offer styling as a part of my portrait sessions, Letitia picked out everything on her own! This blush dress, a purchase from Nordstrom Rack, complimented her skin so beautifully and help up well in the summer heat. The shoes, so cute, were purchased from Greenville's very own Muse Shoe Studio on Augusta St.  Her makeup was done by Confetti Beauty Studio  I think they did such a beautiful job.
Her dog Domingo was the most fun ever. It was really funny because I wanted to get a picture of him running but he was so fast! I would try to run ahead of him and then turn around to get his picture, but he was keeping up with me the entire time! He was also very friendly with the staff at Larkins, maybe because he thought they would have cheeseburgers. Or he could just be super polite. He looked so cute with his bow from PawPaws Pet Boutique.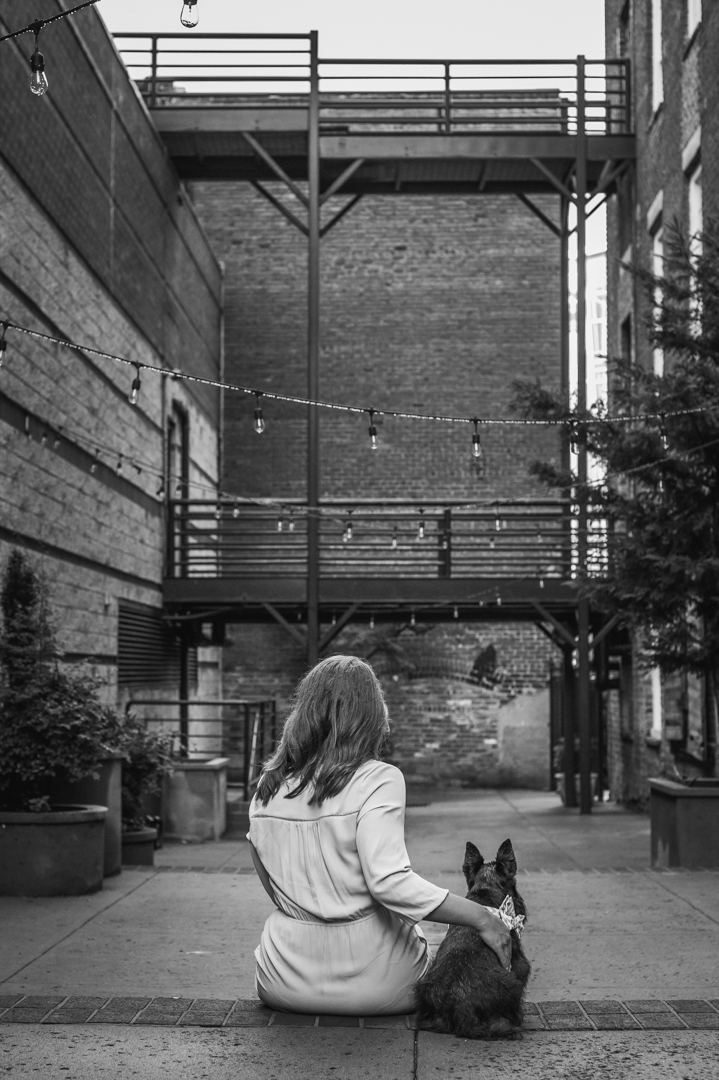 One thing that I really admire about Letitia is the fact that she is celebrating where she is in life. I truly wish I would have done this earlier. I don't think I realized that importance of photography and celebrating myself until after having kids. Not that it's too late, but I don't really have any nice pictures that document my life before children and that's a bummer. The good news is that I can still do it now and I totally am.
Below, I have included some links to pretty blush dresses similar to Letitia's as well as her neutral sandals. These links are affiliate links which means that I do get a small commission if you buy from here. Thanks so much for supporting the blog!!
If you'd like to see other posts like this, please see how much fun I had with Al and my mom!
If you'd like to celebrate who you are, please contact me and let's set something up! If you're on the fence, peruse my portfolio and see if anything looks like fun to you! If you'd like to see more posts like this, please subscribe to my newsletter (it's on the right hand side of the page)!