Being a Greenville native and small business owner, I've always tried to support local businesses as much as possible. As Greenville has grown, so many cute boutiques have opened. Unfortunately, many of them are not curvy girl friendly. Since I am curvy and so are many of my clients, it's essential to find places that offer a diverse range of clothing for all sizes and shapes. When I was contacted by Beija Flor to come and try on some denim, I jumped at the chance. I had seen their store many times but never stepped inside. They knew I was a stylist so they offered me a friends and family discount to come in and get to know them. I was so impressed with everything during that visit that I wanted to return and write about them here.
During that initial visit, a few things really impressed me.
Customer service was outstanding. They were so friendly when I came in (before they knew who I was) and they helped me find the best denim for my size and shape

Every single style I tried on fit. There were some that looked better, of course, but all of them were comfortable, stylish, and looked good on my shape.
After trying on so much denim that made me feel horrible about myself, I was very impressed with how good I felt leaving the store. I asked Olivia some questions to help me learn more about this wonderful local boutique.
Olivia is the store manager and she helped me understand more about how this company came to a little old city like Greenville, SC.
1. How did Beija-Flor come to be?
  It started with a mother/daughter duo and the challenges they had finding a great fitting jean. Kathy Moca ( mother) and Emilie Whitiker ( daughter) spent alot of time in Brazil because that is where Kathy's husband, and Emilie's dad, is from. They noticed the way in which Brazilian women truly embraced their curves. They started this company in a dining room in South Carolina by selling their jeans at peoples houses and parties. Because of their passion for making women feel good and their hard work, it has become the success it is today!
2. What is your mission statement?
     To create jeans that help women feel great, look beautiful, and exude confidence.
3. How did you come up with jeans that fit so well?
      We have 4 main styles and within those we have different inseams and rises. Our goal is to be able to fit all different body types. The jeans are engineered to work with your curves rather than against them.
4. What is it about Greenville that you like and enjoy?
     I can't think of what not to like! I've seen Greenville grow from a wig store and an abandoned hotel to the beautiful downtown it is today. I love to walk the streets and have a sense of community and belonging. I am very proud to be a Greenvillian!
5. Do you have any other locations?
    We have our flagship store in Greenville and another store we recently opened in Kiawah Island. Our jeans are in boutiques all over the country.
6. What are some general fashion tips you'd like to give the readers?
     Just be true to yourself. It sounds cliche but confidence is everything. There are times when I have a customer try on jeans and they come out of the dressing room saying something negative about themselves. When that happens, I have them close the curtain and try that again, but say something positive about what they see in the mirror.
7. Describe a little of your own personal style?
     I obviously wear jeans alot! But outside of that, I love to wear clothes that flow and most importantly are comfortable!
8. Tell us about running a local clothing store and work/life balance
     What balance? haha! Somedays I feel lucky that I got through the day. I take the advice I give my customers and try not to be hard on myself when things aren't perfect. But mostly, I just have a sense of humor about life. I laugh at myself and try to do the best I can daily. Some days I do great, some days I don't and its ok!
9. If there is anything you want the reader to take away from this post, what would it be?
     To be good to yourself, confidence takes practice. We have to retrain our brains to have it!
A little more about Beija Flor
Beija Flor means Hummingbird in Porteguese. The Hummingbird that graces our jeans symbolizes our on-going commitment to eco-friendly production. We forge collaborative partnerships with Brazil's most environmentally conscious and socially minded suppliers to bring you only the highest quality fair-labor and eco-friendly denim. Along with our partners, we work to develop new programs and innovative ways to eliminate waste, create socially progressive working conditions and nurture long-term sustainable growth.
We also donate to local charities every month! We offer a 10% discount one weekend a month and all proceeds go to the charity of the month we chose.
I love working for this company! I love the women I work with and I leave work every day feeling good. I try to spread that to anyone who walks in the door.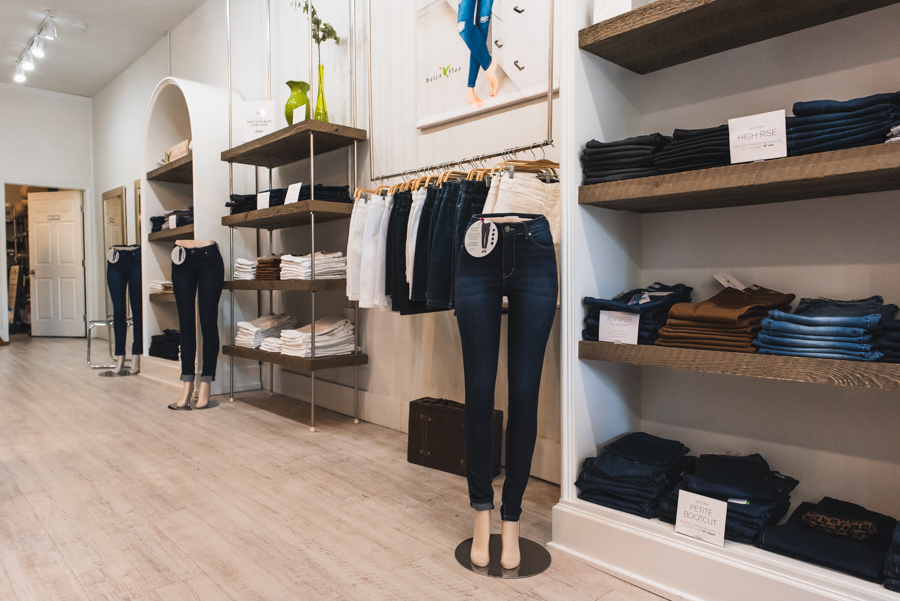 This post was not sponsored in any way. I just really loved the jeans, the people, and the mission.